On 31 December 1908 Wilbur Wright completed the historic flight in Auvours, northern France. Flying a distance of 124 kilometres in 2 hours, 20 minutes and 23 seconds, Wright proved that flying motorised aeroplanes was more than haphazard jumping on the spot. All over Europe, men of money were pondering the possibilities. In Denmark, too. Still, despite the rampant enthusiasm, there were only three aeroplanes in the entire country by December of the following year. Not that this in any way deterred the fledgling aeroplane owners. The first Danish aviation meet was organised and held on Kløvermarken i Copenhagen, the first Danish airfield (merely a common plain), over New Year's 1909-1910 with their three aeroplanes – all of them French; two Voisin biplanes and one Bleriot monoplane. That this thrilled the young gearhead and reporter Carl Theodor Dreyer is clear.
Nervø, Svendsen and the other guys
Like his colleague, the reporter and aviator Alfred Nervø of Politiken, Dreyer was completely and utterly infatuated by anything with an engine and wheels. Coming into the editorial office after one of his daily visits to the airfield, wearing a pungent scent of oil and petrol fumes, he always took a good-natured ribbing from his older colleagues.
Considering that Dreyer all his life was an exceedingly polite and somewhat reserved person, it might seem hard to associate the elderly, genteel, world-famous film director with anything as noisy, dangerous and distinctly masculine as the first aircrafts. However, it is essentially logical that he, too, would fall for the thrills of the modern age (in fact, several international aviation pioneers were artists). It seems just as natural that the Danish aviator Robert Svendsen who was the same age as Dreyer, would become his best friend on the airfield. Like Dreyer, Svendsen had a polite and very reserved nature.
Years later, Dreyer was asked about his associations with the first Swedish aviator Carl Cederström, Alfred Nervø and Jacob Ellehammer, the well known Danish inventor of motorised kites. Dreyer said, "I met Cederström in Limhamn the morning Svendsen landed. He was a wonderful man, an adventurer, a charmer, a man of the world. Nervø I saw doing his famous fly around the Town Hall Tower, but I never got close to him. Nor did I have many chances to cultivate Ellehammer. He was an odd and presumptuous inventor" (Berlingske Tidende, 1960).
Dreyer as daredevil
After the 1909-1910 New Year's meet nothing much happened until Nervø made his First Flight over Copenhagen on 3 June 1910, the same evening as the British aviator Graham White did his First Flight over London. Subsequently, the idea emerged for a flight across the Sound separating Denmark and Sweden. The first aviator across would win a Swedish prize of 5000 kroner and a Danish prize of 7000 kroner. Rising to the challenge were Svendsen, Nervø, Cederström, Knud Thorup and Ellehammer. Around 1 July 1910 they all gathered to start practicing. Shortly after, on Tuesday 4 July, Svendsen stunned his rivals. To show what his aircraft was capable of, he took Dreyer along as a passenger. Dreyer sat behind Svendsen on the fuel tank, hanging on to various posts and wires, without a safety belt – there was none! They circled the airfield five times at a height of 20 metres and both felt secure enough to wave down to the crowd every time they passed over the stands. It was a chance for Dreyer to demonstrate his death defiance and Svendsen the excellence of his equipment.
First man over the Sound
How good friends Svendsen and Dreyer were became evident on the evening of 16 July. Svendsen had told Dreyer, and only Dreyer, that he intended to attempt the flight across the Sound the next morning. Consequently, Dreyer was the only Danish reporter to see Svendsen land at the plain called Limhamnfältet, in Sweden, at 04:34 a.m. on 17 July 1910, having completed the historic First Flight. This happened in some part thanks to Dreyer. Had he not called up the official at Kløvermarken a few minutes past three in the morning to give his friend a pep talk ("If you don't make it across today, you'll never make it across. I asked the bath attendant to raise a flag on the beach huts, and it's hanging straight down"), Svendsen might have abandoned the attempt.
Dreyer's comments before the Sound crossing on 17 July 1910, as seen from Limhamn:
"It is with strange feelings that we this time set course for the familiar airfield north of Limhamn by the same route we have travelled so many times before on a similar errand. Never before have we felt with such certainty that the Sound crossing will be completed as when at sunrise we walked across Limhamn Common. It was as though nature for an hour had given itself over to peace and tranquillity. As far as the eye could see, the water lay like a mirror. Not a leaf or a blade of grass stirred. At the sound of our footfalls in the grass dozens of wild ducks hush with nearly silent strokes of their wings through the thin morning air, which was so clean and clear that with the naked eye we could make out the profile of Copenhagen and by the red gasometer (on Christianshavn) calculate the location of the airfield."
Dreyer's comments after the Sound crossing:
"The Swedish journalists who had come out to Limhamnsfältet as doubters are now completely lost in the enthusiasm. They race to be first to get to the happy winner, who now from a height of a hundred metres makes a rare elegant landing. However, they have misjudged the distance and are running in the direction of the point where the aeroplane first touches ground without considering that the aeroplane has rolled a good distance before it stops. Thus we are not only the sole Danish reporter present but also the first Dane to have the pleasure of shaking Svendsen's hand after the successful Sound flight and congratulating him. His first words were: "Tell me, has no one thought of a beer for me?" And he got one. He took the hullabaloo around him quite calmly. He had done his part. His calculations and his machine held up. That was all."
First flying school in Denmark
In autumn 1910, Denmark's first flying school opened on Kløvermarken with Svendsen as instructor. His first students included Dreyer, of course, and, incidentally, the Danish future silent-film action hero Einar Zangenberg. It was a short-lived endeavour, however. One aeroplane had massive engine problems and another was constantly crashing. In spring 1911, the two surviving aeroplanes were finally and definitively wrecked, and the school closed. Svendsen continued flying his new Henri Farman replica "Dania" at his own expense. For the time being, it was impossible to get flight instruction in Denmark. Perhaps as a way to add to his airtime, Dreyer, on 14 August 1910, went along as a passenger in a balloon piloted by Count Frederik Moltke and later took part in several balloon ascents, in autumn 1910 and spring 1911.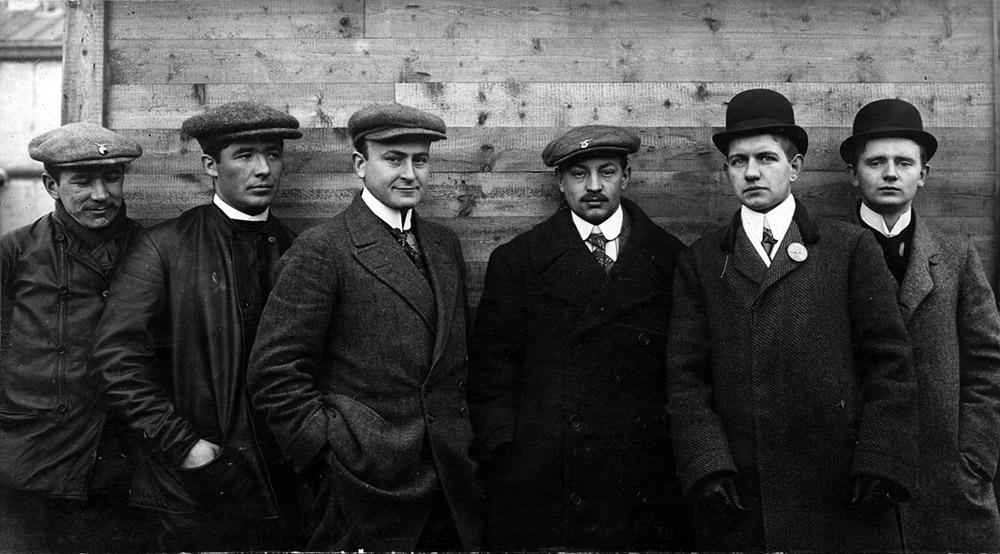 A Passenger over the Sound
Dreyer's farewell to aeroplanes was so spectacular as to seem nearly incredible. On 4 June 1911 at 07:36 a.m., the French aviator Poulain was preparing to fly from Malmö, Sweden, to Kløvermarken in Copenhagen – taking along Dreyer as a passenger, sitting in a sling on the axle between the plane's wheels! Naturally, the Swedish air traffic authorities refused to give the two "mad lads" clearance to take off with Dreyer perched under the plane, as planned. They went ahead anyway. The plane lifted off and at 08:24 a.m. they landed without incident on Kløvermarken to the cheers of everyone witnessing this, the first Danish "stunt flight." In fact, the crowd was so enthusiastic that Poulain lifted off again, without a passenger this time, to fly a victory lap and ended up wrecking his undercarriage. Capping off his adventures in aviation, Dreyer took his balloonist certificate in November 1911 and made several ascents in the years before World War I.
By Toni Mygdal-Meyer | 11. August