We do not know why Carl Th. Dreyer placed the order. We do know, however, that 1926 was the year of Dreyer's international breakthrough as a director. He had shot the film Du skal
Ære din Hustru (Master of the House) in 1925. In February 1926, the film was screened to an audience of cinema owners and film critics in Paris, who received it enthusiastically. In the spring of that year, Dreyer would travel to Paris again to sign a contract with the film company Société Générale des Films and settle in the city with his family. He would soon be engaged in making perhaps his best-known film, La Passion de Jeanne d'Arc, which would premiere in 1928.
Rue La Boëtie, 1926
While Dreyer was getting settled in Paris and preparing Jeanne d'Arc, our story begins. We don't know how. Perhaps he met the Danish Ambassador in Paris, who told him of the renowned Danish tailor in the city. Perhaps Dreyer had heard of the tailor before leaving for France. Perhaps he recognised something of his own situation in the Danish couturier, who had arrived in Paris three years previously and made a name for himself.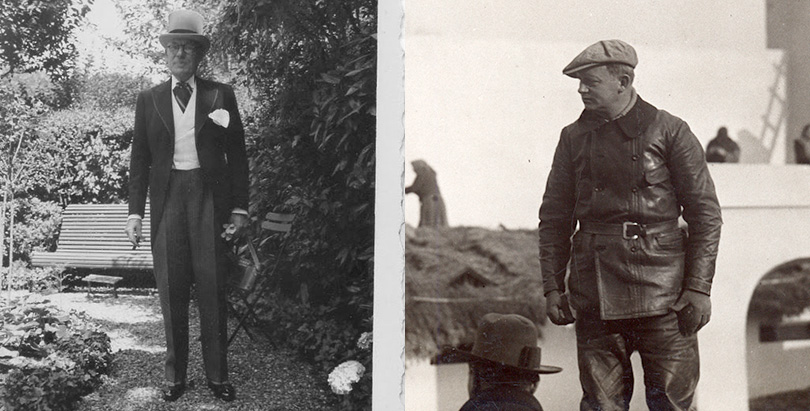 Whatever the reason, Carl Th. Dreyer visited the exclusive Danish tailor - Monsieur Larsen - in his atelier on Rue La Boëtie sometime in 1926, apparently in late summer. He ordered an expensive tuxedo, single-breasted and with a shawl collar, and of course with Lars Larsen's signature detail: pleats at the waistband of the trousers. The suit was ready a couple of months later, on 26th October.
Dalgas Boulevard, 1964
A new hole in the story appears. We have to fast-forward to 1964 before Dreyer's tuxedo from Larsen's atelier turns up again. Dreyer's film Gertrudpremiered that year. It was to be his last film. Gertrud was photographed by Henning Bendtsen, Dreyer's favourite cinematographer, with whom he had also worked on Ordet (The Word). Dreyer was grateful. He wanted to give Bendtsen a present in addition to his fee. The gift was to be Dreyer's old tuxedo made by Larsen in Paris almost 40 years previously.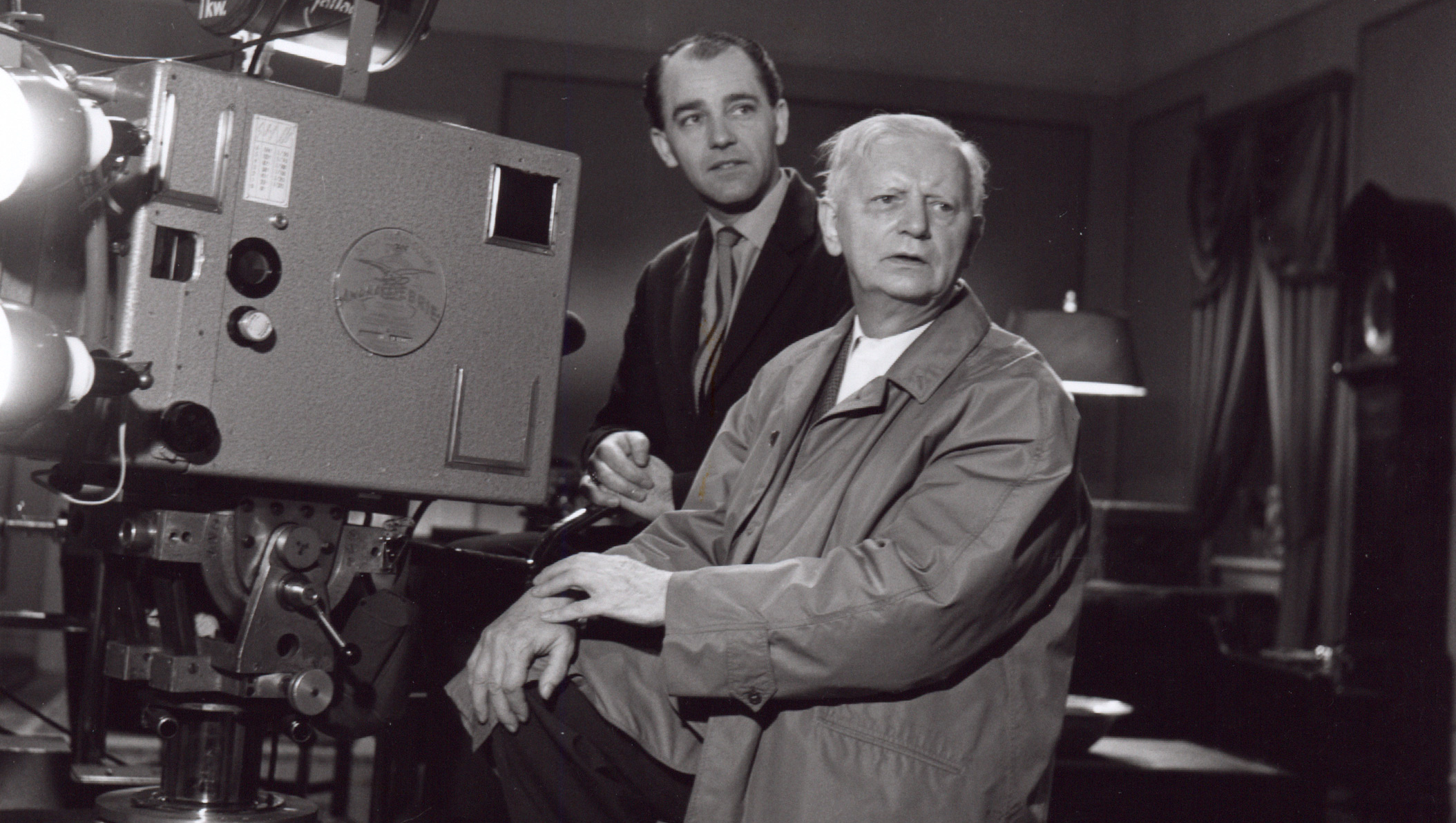 We do not know the precise reason for this gift. We can, however, speculate that Dreyer must have been very fond of the tuxedo, because he had kept it for such a long time, and because he saw it as a suitably fine token of his thanks. The tuxedo must have had particular symbolic worth for Dreyer. He had, after all, had it made bespoke the same year he arrived in Paris and consolidated his reputation as a great film director. And he had ordered it from the Danish couturier in Paris, Larsen.
In his old age, Henning Bendtsen himself spoke of the moment when Dreyer offered him the suit: 'During the shoot, I drove Dreyer back and forth to his home on Dalgas Boulevard, and one day he said to me: "Mr. Bendtsen, we have worked so well together that I should like to give you a gift. I have a tuxedo which I had made by a tailor in Paris in 1926. It no longer fits me, but I am sure that it will suit you, and I will gladly pay for alterations."'
Carl Th. Dreyer died in March 1968.
Chez Bendtsen, 1991
Henning Bendtsen continued to work as a cinematographer until 1991. The same year, he passed the tuxedo on to a man who worshipped Carl Th. Dreyer: Lars von Trier.
Bendtsen and von Trier met for the first time when von Trier was a student at the Danish Film School, and Bendtsen visited to give a talk about Dreyer. A few years later, they worked together, first in 1987 on the film Epidemic, and then on Europa from 1991.
Bendtsen explained in 2005 how he passed on the tuxedo to von Trier: 'So I got Dreyer's tuxedo, and I wore it on maybe four or five occasions until I couldn't fit into it any more. So when we had finished shooting Europa, I invited Lars von Trier to dinner out here [at Bentsen's home] and let him try on the old tuxedo. It fitted him perfectly - and he wore it to the premiere of Europa.'
Since then, we have all seen the tuxedo several times. We just didn't know it. Or rather, we didn't know that it was Dreyer's tuxedo - nor that it was made by the great couturier Larsen in Paris.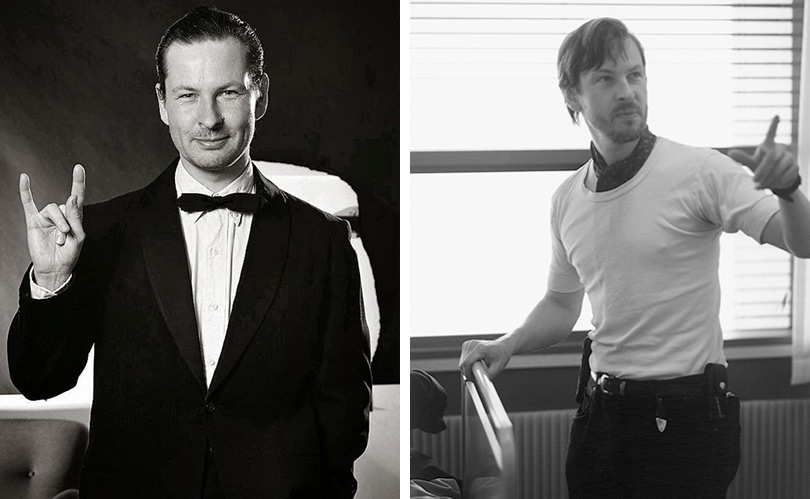 Lars von Trier in Riget (The Kingdom), 1994. Photo: Stiljournalen.
We probably all remember the introduction to the television series Riget: Lars von Trier stands there in a tuxedo making the 'sign of the horns', and declares that we must accept the good along with the bad.
That's the very same tuxedo he is wearing - indecorously paired with a crumpled white button-down collar shirt, and too big for Lars von Trier's slim frame. But it is indeed Dreyer's tuxedo.
In time, Lars von Trier filled out, and eventually he grew out of the tuxedo. An old promise had to be kept.
The Danish Film Museum, to have and to hold
Von Trier received the tuxedo from Henning Bendtsen on the condition that he would ensure its survival.
'The only thing I asked him [von Trier] to do was to pass the tuxedo on to the Film Museum when he could no longer wear it himself,' explained Bendtsen on his 80th birthday in 2005. 
Lars von Trier kept his promise. He handed the tuxedo on to the Danish Film Institute some years ago, when he had grown too plump to wear it.
The tuxedo was thus in the safekeeping of the authorities. But where, exactly? How did it look in close-up? And would it be possible to corroborate that it was made by Larsen in Paris? Or was the whole story a misunderstanding, a case of hearsay? After all, what we have here is an artefact that has been handed down from one artist to the next - and artists are prone to embroidering the truth for the sake of the story's appeal.
In other words, it was time to talk to the Danish Film Institute.
I got in touch with Katja Glud, Conservation Technician at the Film Archive in Glostrup. They did indeed have the tuxedo worn by Dreyer, Bendtsen and von Trier in storage, she told me, and I would be welcome to come and see it.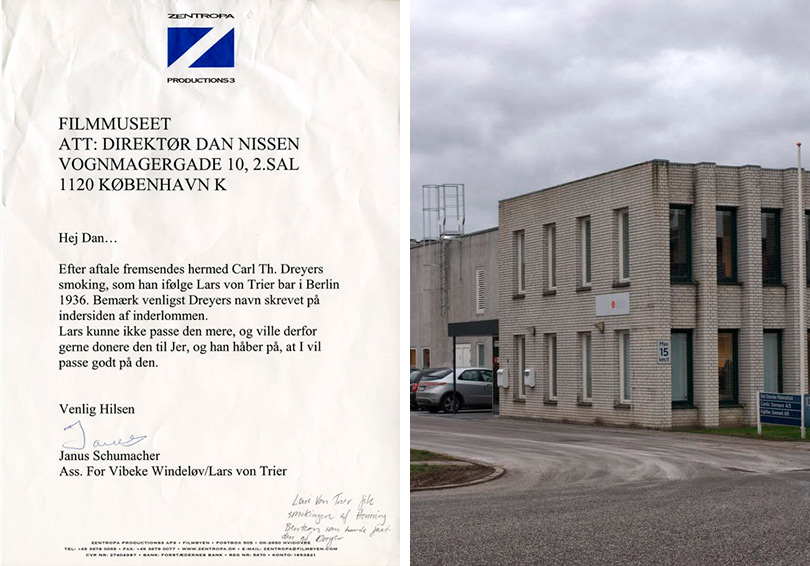 I made my way out to the Archive one cold January morning.
A genuine Larsen?
I was ushered through a hall full of shelves and metal cannisters, before we came to an office. The first thing I saw was a large, pale brown cardboard box on a table. The lid had been lifted off. The black garment that was folded in the box had a yellowish sheen from the strip lighting above.
It was indeed a tuxedo. But was it from Larsen's atelier?
I took off my coat, chatted a little with Katja and a colleague, and then, finally, I could lift the jacket out of the box and lay it on the table. I opened the left side of the jacket, found the inside pocket, and my fingers registered that there was a label there. Carefully I pulled out the upper part of the pocket. A white label emerged, with 'Carl Th. Dreyer' written on it. A few hundredths of a second later, my eyes found the name 'Larsen' at the top of the label. It was blurry, almost worn away - but definitely there.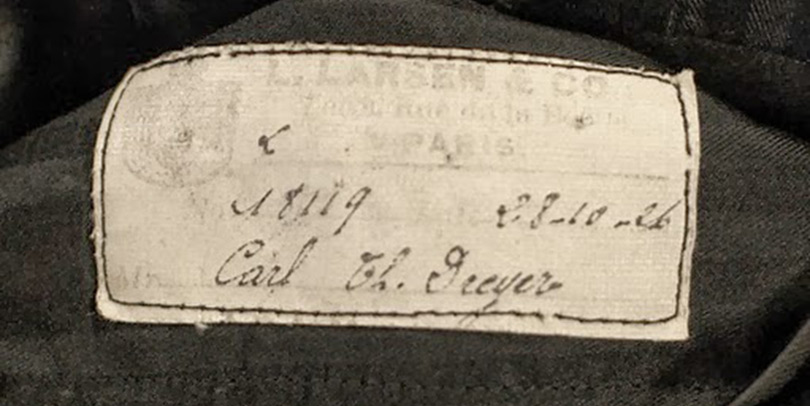 I was able to discern the following information:
L. LARSEN & CO. 
?? Rue la Boëtie 
L PARIS18119 28.10.26 
Carl Th. Dreyer
Most of it made sense. I was puzzled - and still am - by the lonely letter 'L' and the number '18119'. I think that the handwritten 'L' must either indicate that Lars Larsen himself crafted the tuxedo, or that he inspected it. The handwritten '18119', I believe, is a serial number or a client number. It could be that Dreyer's tuxedo was garment number 18119 since the atelier was established in 1911, or that it was tailor number 18119 who was assigned the order.
I continued my inspection. I was not surprised to see that the jacket was pad-stitched to give it structure and shape. That is typical of vintage tailoring. There was a hole in the silk lining, and so I caught a glimpse of the inner layers of the construction: haircloth of wool and canvas, all held together with tiny hand stitching that looked like it had been done just yesterday. The piece was, as mentioned above, single-breasted with a shawl collar and an ordinary polished button fastening. This is a model I have since seen on two other tuxedo jackets by Pierre Larsen, Lars Larsen's son, made 30-40 years after Dreyer's jacket. Perhaps a signature design.
I also looked more closely at the matching trousers. They had pleats, of course: two on each side, four in all. Larsen sewed his famous pleats into his tuxedo trousers too, even though tuxedo trousers could, and still can, be made without this detail. It looked as though the trousers were intended to be worn without braces (or suspenders in US English) or any other extra accoutrements. They were cut to fit on the waist, pure and simple. This was a practice that used to be more widespread in tailoring than we might imagine today, when braces and backstraps are lionized as the classic and correct solution. The buttons on the fly were also notable. They were engraved with Larsen's name. Costly elegance - and yet more evidence of tailor Larsen's status in Paris. 
Perhaps it was status that drew Dreyer to Larsen. He was not just making a purchase: this was a symbolic act. Larsen constituted, in a sense, a mirror image of Dreyer himself, one that affirmed his desires and reflected the reality that began to swim into view with the filming of Jeanne d'Arc.
Perhaps, in the end, it doesn't matter what brought Carl Th. Dreyer to walk into the atelier on Rue La Boëtie on that late summer day in 1926.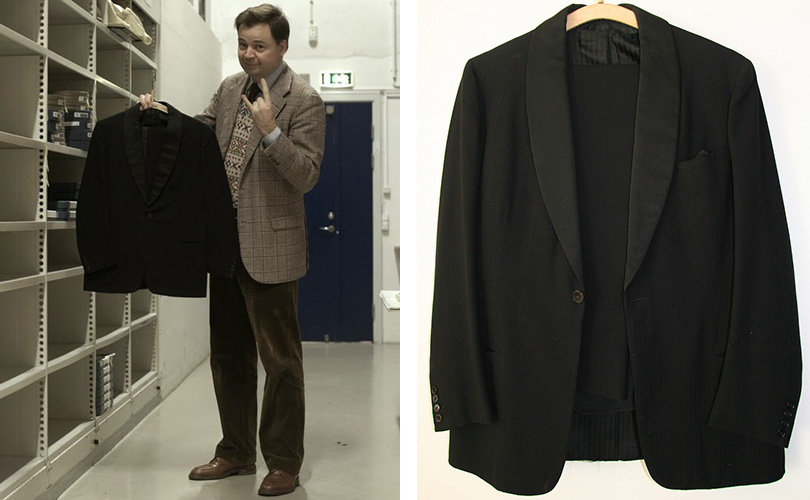 When our appointment was over, Katja was kind enough to take a souvenir photograph of me in the big hall with the metal shelves. I don't quite know what hand gesture I'm really making here, but my intention - I can assure you - was to copy Lars von Trier's sign of the horns.
This article was first published on the author's blog Stiljournalen February 19 2014.
Sources
The website Carl Th. Dreyer - special thanks to Peter Schepelern 
Magasinet AVM 
Den store danske 
Børge Møller, Karen Kjædegaard & Françoise Guedar Delehaye 
Photo of Dreyers smoking: Stiljournalen
Translated by Claire Thomson
By Torsten Grunwald | 05. March