Dating back to Dreyer's debut film The President, it's obvious how much importance the director gave to the sets and how meticulous he was about design, tone and style. Dreyer presumably handpicked Warm for the job.
Born 1889 in Berlin, Warm began his career in German film in 1912. Regarded as one of the most prominent set designers in expressionist film, he worked on the groundbreaking, style-setting Das Cabinet des Dr. Caligari (1919), on Fritz Lang's Die Spinnen (1919-20) and Der müde Tot (1921), and on Henrik Galeen's Der Student von Prag (1926). Set design was crucial in expressionist film. Das Cabinet des Dr. Caligari would not have been the same without its angular, distorted, obviously painted sets. In a fundamental way, the sets are the film, concretely motivated by the story being attributed to the imaginations of a madman.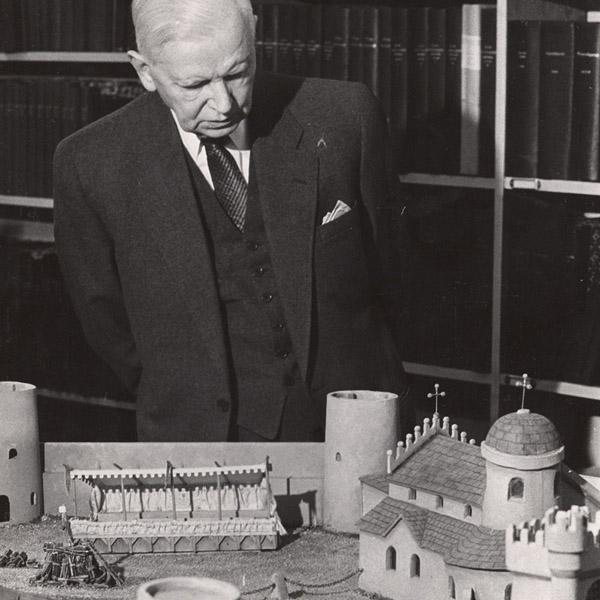 For Jeanne d'Arc, Warm built a series of models for the final large-scale sets. In 1965, Warm approached the Danish Film Museum to hear if they were interested in buying the models. They were, and the museum's director, Ib Monty, raised the funds with support from the Ministry of Culture. On 24 November 1965, the models were presented to the public at the same time Dreyer received the award he had won seven years earlier in conjunction with the 1958 Brussels World's Fair, where La Passion de Jeanne d'Arc was hailed as one of the world's 12 greatest films.
The same year, Warm remarked about his collaboration with Dreyer,
"Dreyer is among the directors who to this day mean something to the visual creation of film. He had an effect on me like a conductor, who leads his orchestra and knows how to draw out every single instrument. I have never experienced a collaboration as beautiful as the collaboration on 'Joan of Arc'" (Kosmorama, No. 71, October 1965).
Dreyer and Warm continued their collaboration on Vampyr (1932), though that film was largely shot on location.
Warm was a voice in Dreyer's orchestra, and a crucial one.
Warm's models are now at the Danish Film Institute. They were photographed for the website by Kristian de Freitas Olesen.
---
By Dan Nissen | 11. February